Familyhouse

Wellness holliday villa
Luxury vacation villa Luxerij with two unique guest accommodations, a beautiful farmhouse and various wellness facilities offers everything you are looking for. Enjoying in a leafy environment where peace, space and luxury form one whole. Located 'an de Koediek' is this beautiful farm on the edge of the beautiful Drenthe green village of Ruinen. A stone's throw from the national parks Dwingelderveld, Drents-Friese Wold and the nature reserve Weerribben-Wieden with the famous water village Giethoorn. Are you looking for a luxurious group accommodation for up to 18 people? Then you have come to the right place at Luxerij.


Airbnb

This beautiful typical Drenthe and in 2014 reed-roofed Saxon farm is also available as a holiday farm. In the original farm, dating from the end of 1800, you will find 't Veurhuus, the 'Dele', 't Heuivak', 'de Baanderhoek' and 't Smeerhokke. All more than 100 facilities are entirely private to you. Ideal for families or other groups up to 18 people. Also, the football field, volleyball court, the large trampoline and the swimming pool offer plenty of entertainment for our young guests.

This 5-star accommodation has everything you need for a fantastic stay in a beautiful rural private location.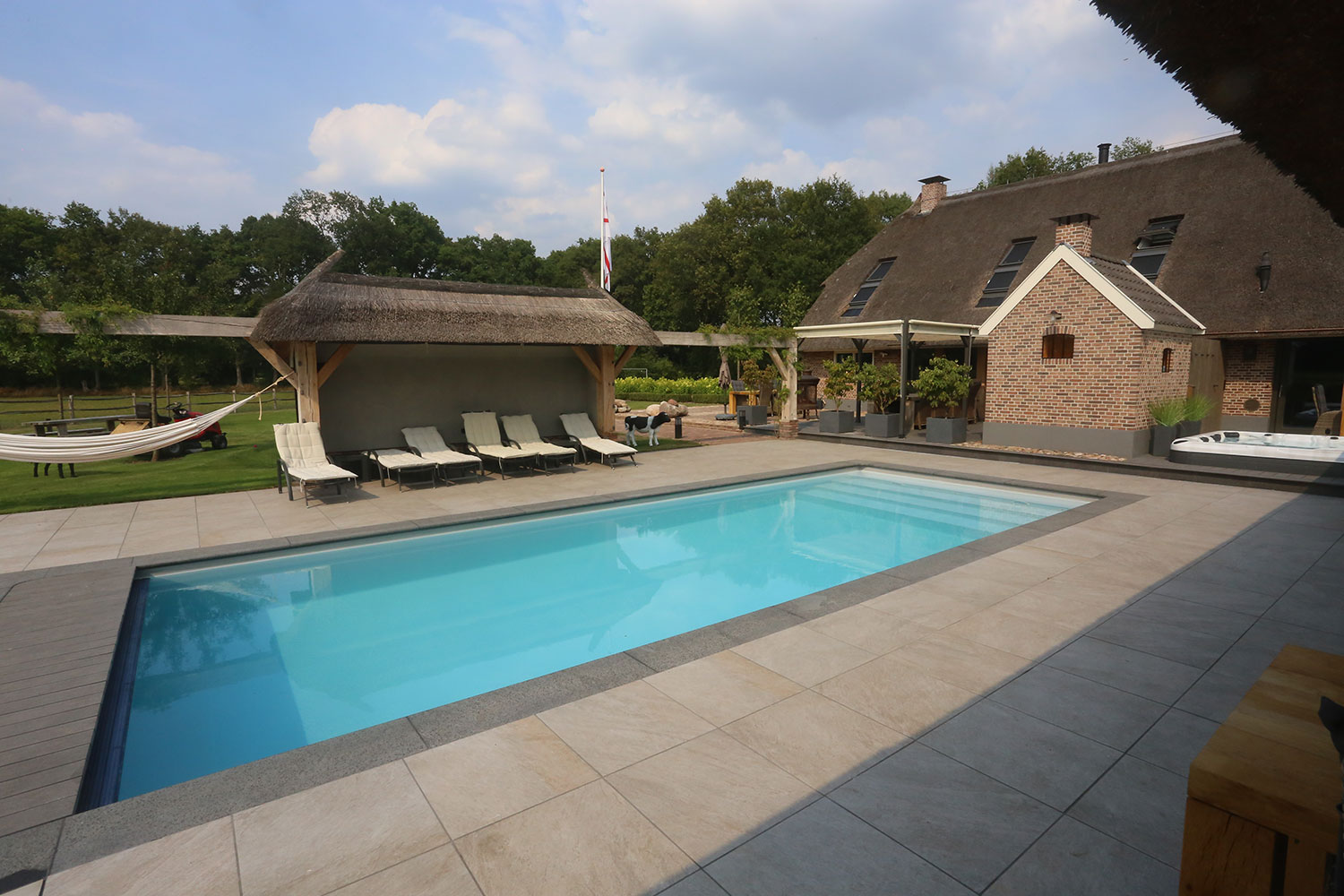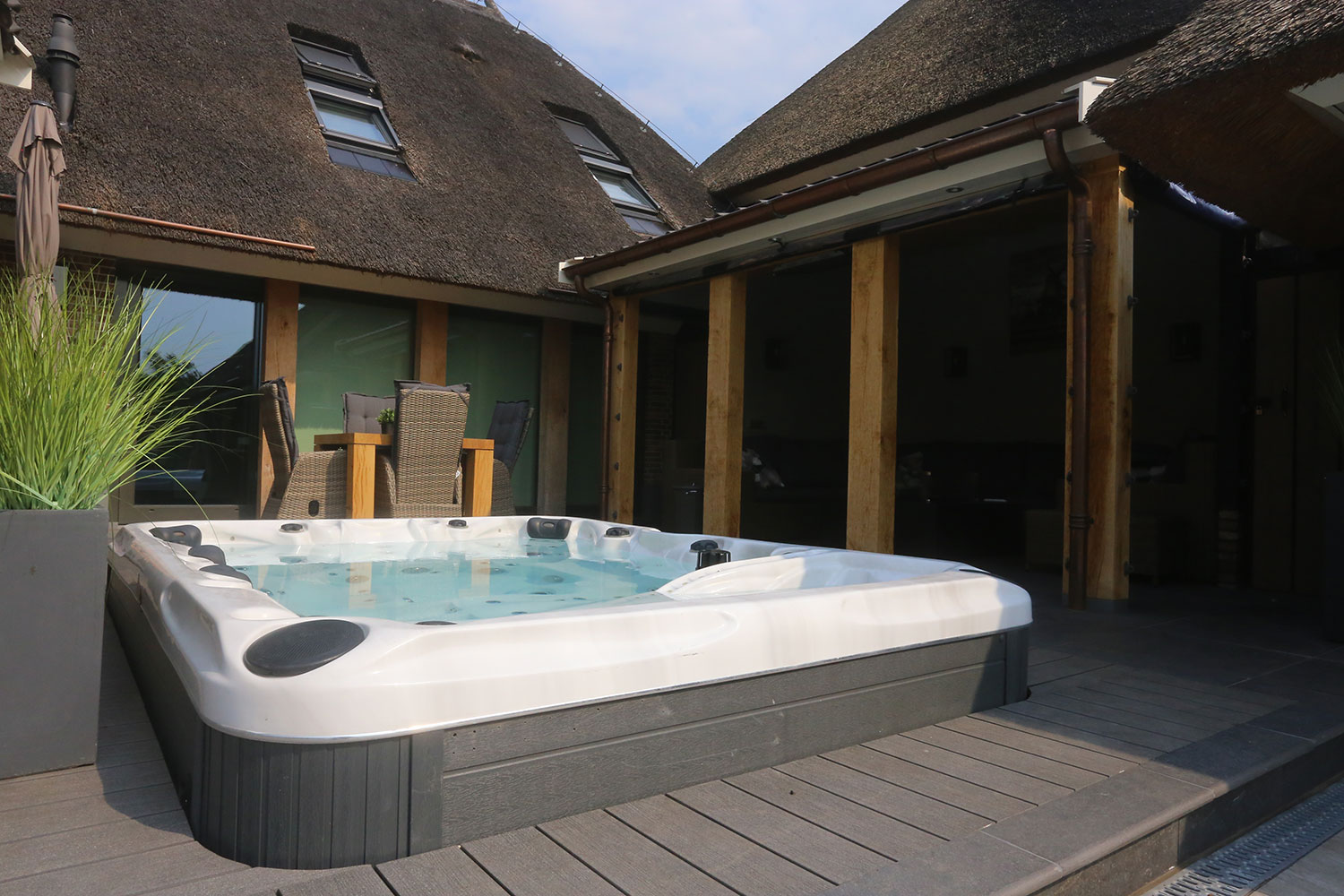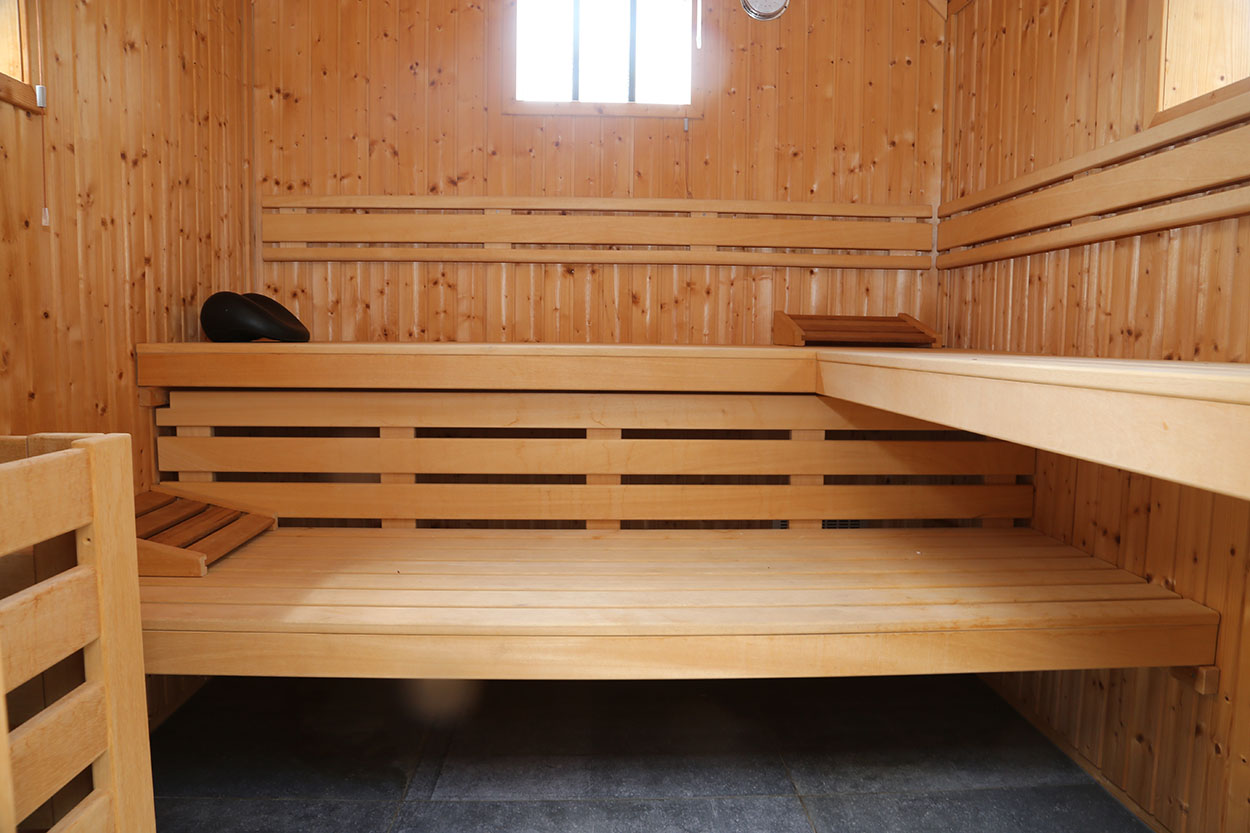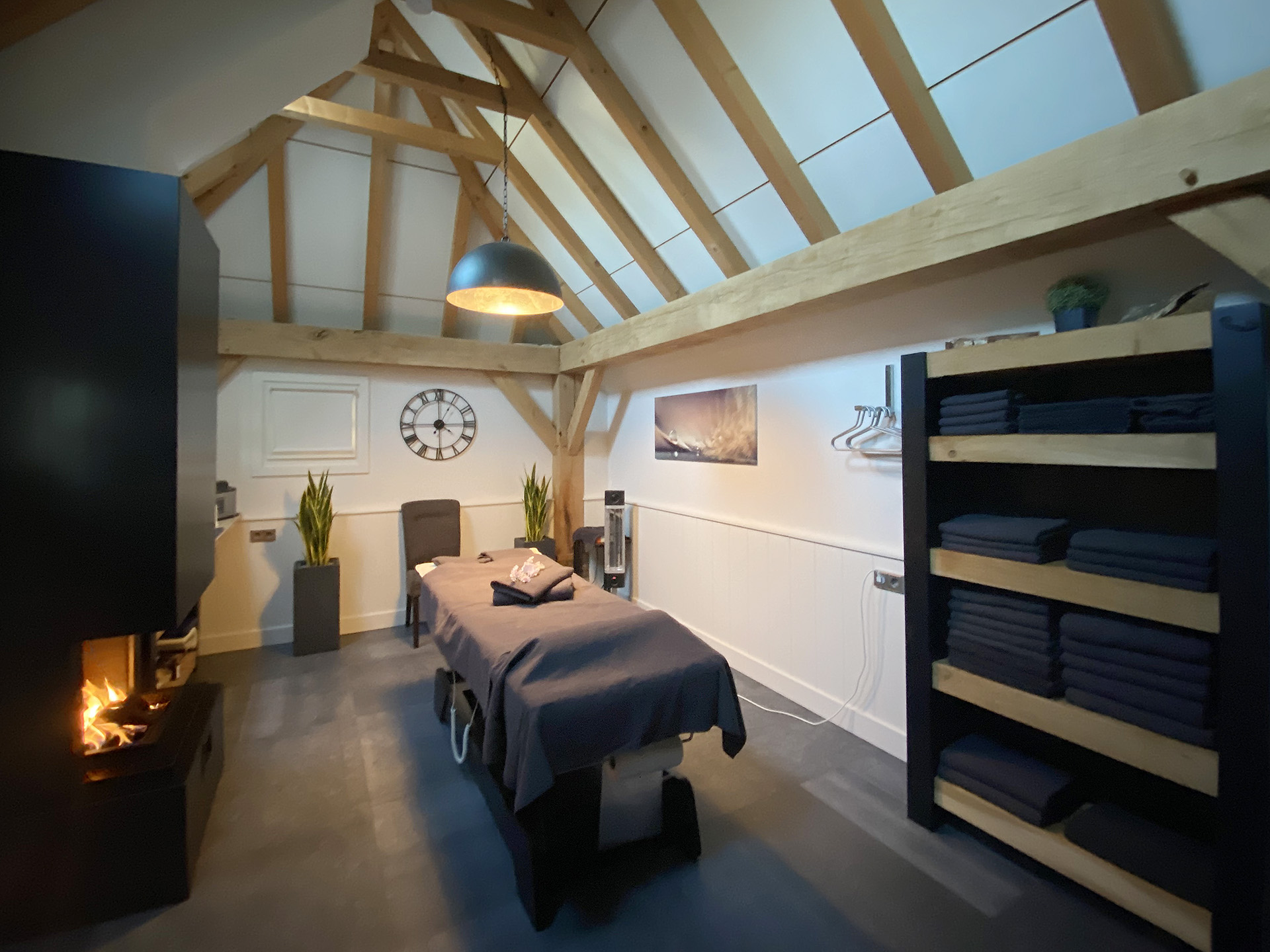 Wellness
Luxerij offers besides the luxury rooms also all wellness facilities. There is a beautiful heated outdoor pool with matching changing room and toilet which can be used in the spring and autumn and of course in the summer. And do you not like swimming and just want to rest, that is possible on one of our terraces or on one of the lovely sunbeds at the edge of the pool. In addition, a sauna, large whirlpool and solarium are available for our guests. Or would you like to enjoy a wonderful relaxation, wellness or sports massage in luxury? That too is possible. The atmospheric massage room 't Smeerhokke has been specially designed for this and we have our own qualified massage therapist.
For more information about massages click here.
In 'de Baanderhoek' you can relax in the large, luxurious and covered lounge area with a beautiful table fireplace. At the Luxerij you really bathe in luxury.
Surroundings
Luxerij is located on the edge of the green village of Ruinen in the southwest of the province of Drenthe. In the immediate surroundings you will find the Dwingelderveld, the sheep herd Ruinen with the hundreds of sheeps grazing in the National Park. In the typical Drenthe villages Dwingeloo, Echten, Ansen, Diever and Havelte located near Ruinen, you can also relax on one of the beautiful terraces. The town of Meppel, also called small Mokum, is within cycling distance and is known for the busy Thursday Meppeldays in the summer holiday season. And do you want to look up the water? Even then Luxerij is a suitable base because at less than thirty kilometers away in National Park Weerribben-Wieden, for example, is Giethoorn, the 'Venice of the North'. For families with children, Wildlands Zoo in Emmen is a great getaway and sporty guests can indulge themselves because the beautiful landscape is very inviting to walk or cycle. There is also a tennis court and golf course in the immediate vicinity. For all activities and facilities in the nearby village you can look on
www.ruinen.nl.
. .
Facilities
Kitchen
Free Parking
Jacuzzi
Wi-Fi
Swimming Pool
Sauna
Fireplace
TV
Washing Machine
HEOS Sound System
Workplace
Basic Facilities
Spacious living room
Spacious living kitchen
Spacious kitchen
Lounge area with table fireplace
Massage room (when booking massage)
5 bedrooms
2 outdoor areas with private bathroom
2 shared bathrooms with bathtub
Washing and drying room
Dressing and solarium room with shower
Sauna room
Various toilet facilities with urinal
Large front and back garden
Large terrace
Small terrace
Sun terrace
Football field
Volleyball and badminton court
Large trampoline
BBQ / grill
Sun protection pergola
Sunbeds
Parking on site
Large fire pit for small terrace
Terrace Heather on site small terrace
Picnic table
Completely illuminated outdoor area
Swimming pool heated 26-30 degrees (seasonal)
Large whirlpool 37 degrees
Sauna
Solarium
Outdoor shower
Outside toilet
Various massages (for a fee)
Bathrobes, beach towels and beach slippers (for a fee)
Washing machine
Dryer
WiFi
Internet TV
Radio HEOS soundsystem
Iron
Anti-mosquito sprayers
Hole for laundry on first floor
Electrically operated sun protection
Large waste container
Underfloor heating ground floor
Central heating floor
Laptop friendly workspaces
Sleeping- and Bath facilities
Bed linen
Towels and bath towels
Hairdryer
Shaving mirror
Clothes hangers
Wardrobes
Suitcases closet
Walk-in closets
Baby bath
Commodity pillow
2 child beds
High chair
Games
Books
Football, volleyball, badminton rackets
Wheelchair friendly (max. 2 persons)
Double oven stove
Wok burner
Combi microwave
Double dishwasher
Fridge
Freezer compartment
Ice cubes machine
Coffee beans machine
Quooker
Kitchen towels
Cutlery
Cookware set
Crockery
Toast and grill iron
Toaster
Blender
Other supplies
Internet smart TV in all rooms
Heos sound system in all rooms
Heos sound system entire outdoor area
2 x fireplace
Table fireplace
Minibar in outside rooms
Entire property is private
Electronically adjustable beds in room 1,4,6 & 7
Electronically controlled roof windows
Lockable entrance gate from the inside
Tennis court at 500m distance
Golf course 9km away
All mentioned Wellness facilities
Various massages
Gas
Water
Flow
Gas bottles BBQ and gas Heather
Toilet paper
Garbage bags
Firewood
Cleaning products house, kitchen and bathroom
Washing powder
Dishwashing tablets
1st coffee beans in machine
Various foil and baking paper
Kitchen rolls
Shampoo
Hand Soap
Fire extinguishers
Stair gate
First aid drum
Carbon monoxide detectors
Smoke detectors
2 flight ladders first floor
Flight plan
Room layout
Farm floor
Bedroom 1
1 two persons king size bed,
1 single bed
Farm floor
Bedroom 2
2 single beds,
1 double sofa bed,
(120 cm wide, suitable for children)
Bedroom 3
3 single beds
Bedroom 4
1 double
queens size bed
Bedroom 5
2 double beds
Country hous
Bedroom 6
1 double queen size bed
private bathroom
Country house
Bedroom 7
1 double queen size bed
private bathroom
Reviews


This accommodation is rated by our guests with 5 stars on accuracy, cleanliness, communication, layout, location, check-in and stay.
Ben
Juli 2019
Wij hebben afgelopen weekend gebruik mogen maken van jullie accommodatie. wat een prachtige plek! wij hebben volop genoten en komen graag nog eens terug. Roelof en Petra zijn super gastvrij en de locatie mist helemaal niks. Aarzel niet. gewoon boeken. een dikke 10+ waard!

Tip: Maak ook gebruik van de massage mogelijkheid. 😊👍 Bedankt, namens de hele groep!
Goederoen
Januari 2019
De Luxerij; de naam zegt alles! Een enorm prachtige, luxe boerderij! De boerderij is enorm mooi ingericht. Alles is ontzettend schoon en alles wat je kan bedenken is aanwezig. Mooie badkamers, heel fijne keuken met 2 vaatwassers en een heel gezellige kook- en leefruimte. We hebben genoten van de faciliteiten zoals de jacuzzi en sauna. We hebben genoten, gelachen en gerelaxed in alle rust. Een echte aanrader!
Laura
April 2019
Die Unterkunft von Petra und Roelof war super schön, es fehlte an wirklich nichts. Das Haus und die Außenanlagen sind in jedem Detail perfekt geplant und ausgestattet. Wir haben uns als Familie mit 10 Erwachsenen und 6 Kindern rundum wohl gefühlt und jeden Abend an einer langen Tafel gemeinsam gegessen und gelacht. Wir werden dieses lange Wochenende in bester Erinnerung behalten, auch dank Petra und Roelof, die unheimlich nett und hilfsbereit sind. Lieber Dank auch noch speziell an Petra für die tollen Massagen.
Tim
Mei 2019
Im Mai war ich mit meiner Dienstgruppe (17 Personen) für 3 Nächte in dieser traumhaften Luxus-Unterkunft und uns hat es an Nichts gemangelt. Es war hochmodern eingerichtet, absolut sauber und Roelof und Petra (die Eigentümer/Vermieter) waren immer für uns da, bzw. erreichbar. Wer nur auf Partyurlaub und 24/7 Poolpartys aus ist, sollte sich ein anderes Objekt suchen. Wer jedoch eine einzigartige, luxuriöse Oase für sich und seine Familie/Freunde sucht, in der man wunderbar entschleunigen kann, ist hier goldrichtig. Ich würde jederzeit wieder zu Roelof und Petra reisen. Es war der Hammer! Zusatz: --------- Handtücher und Bettwäsche waren vor Ort vorhanden.
Marnic - Maart 2020

Rustig, mooi, volledige vrijheid, alle voorzieningen aanwezig (jacuzzi, massage mogelijk, zwembad, sauna, sportveld, ... alsook al het huishoudelijke, beddengoed, handdoeken, ....). Perfect 👌
Iris - Maart 2020

Met de hele familie hebben wij mogen genieten van een weekend qualitytime en familytime in 1 in De Luxerij. Werkelijk een toplocatie die sfeer en gezelligheid uitstraalt. Het interieur is smaakvol ingericht, met oog voor detail. Alle faciliteiten die De Luxerij rijk is, baden in luxe en geven elke gast de kans zich op haar of zijn eigen manier te amuseren en er ten volle van te genieten in een prachtig decor! Een echte aanrader is ook de Massagerij, die ook deel uitmaakt van het concept : ideaal voor het evenwicht tussen lichaam en geest! De uitbaters zijn steeds ter beschikking met respect voor de privacy van hun bezoekers!

Roelof, bedankt voor de warme en aangename ontvangst en rondleiding; voor jullie gastvrijheid, voor de correcte en vlotte regeling van het gewonnen weekend en de mooie kans om in jullie fantastische Luxerij te verblijven! Het is een schitterend concept, doe zo verder! Wij raden dit zeker en vast aan en hopelijk tot gauw! Groetjes, in naam van de hele familie!
Renate - Februari 2020

Wir hatten ein wunderbares WE in diesem fantastischen Haus. Alles sehr gepflegt. Bis ins kleinste Detail liebevoll und perfekt. Wir kommen immer wieder das steht fest!!! Vielen lieben Dank für eure Gastfreundschaft 🤗
André - Januari 2020

Dit huis is geweldig. Volledig uitgerust voor meer dan 20 personen. Wij waren er met 12 volwassenen en 7 kinderen op oudejaarsavond. Zwembad, bubbelbad, sauna, beschikbaar. Veel ruimte voor iedereen en volledig ingericht met een smart home. We komen zeker terug.
William - December 2019

Wij hebben een geweldig weekend gehad. Ideaal voor grote gezin met veel voorzieningen. Geweldige accomodaties. Top materialen gebruikt om waardoor alles geweldig is afgewerkt.

Roelof en Petra bedankt voor jullie gastvrijheid. Top!
Ronald - December 2019

Wat super locatie, alles erop en eraan. We hebben er afgelopen weekend mogen genieten. Bedankt voor de goeie zorgen.
Joke - December 2019

Wij hebben net een lang weekend met de familie mogen genieten van deze top locatie. Een echte aanrader!!! Om het helemaal compleet te maken hebben een aantal dames mogen genieten van van een topmassage.
Jul - November 2019

Ein Erlebnis der besonderen Art! Wir haben den Aufenthalt mit der Familie sehr genossen. Super nette Vermieter und ein absolut sauberes Haus. Es wurde wirklich an alles gedacht. Wir kommen nächstes Jahr gerne wieder
Steffi - November 2019

Wunderschönes Haus mit tollen Wellness Angeboten und super nette Vermieter! Alles sauber; sehr gut ausgestattet und alles mitviel Liebe zum Detail! Der herzliche, familiäre Service der Vermieter hat den tollen Urlaub abgerundet! Wollen am liebsten sofort wieder hin und in den Whirpool hüpfen!
Robin - Oktober 2018

Geweldige toplocatie , vooral voor een wat groter gezelschap. Zeer smaakvol gebouwd , perfectie tot in de details. Prachtig zwembad , jacuzzi en sauna. In combinatie met het prachtige weer zorgde dit voor een prachtig weekend. Roelof bedankt!
Christoph - Oktober 2019

Das Luxurij lässt keine Wünsche offen. Dazu trifft man auf sehr zuvorkommende und sympathische Gastgeber!
Harsha - Oktober 2019

You can expect absolute luxury , mindfulness and peace in this accommodation . I have been to many places but we as a group of 15 people had an amazing time at the barn.
Sven - Juni 2019

Wunderschönes Haus sowie die gesamte Anlage rundum. Alles sehr modern und stilvoll eingerichtet. Super nette Gastgeber. Kann ich für jeden zu 100 Prozent weiterempfehlen. Gerne kommen wir jederzeit wieder.
Cees - April 2019

Een prachtig huis in een fraaie omgeving. Aller erop en eraan. Alle details kloppen!
Laura - April 2019

Die Unterkunft von Petra und Roelof war super schön, es fehlte an wirklich nichts. Das Haus und die Außenanlagen sind in jedem Detail perfekt geplant und ausgestattet. Wir haben uns als Familie mit 10 Erwachsenen und 6 Kindern rundum wohl gefühlt und jeden Abend an einer langen Tafel gemeinsam gegessen und gelacht. Wir werden dieses lange Wochenende in bester Erinnerung behalten, auch dank Petra und Roelof, die unheimlich nett und hilfsbereit sind. Lieber Dank auch noch speziell an Petra für die tollen Massagen.
Rob - Maart 2019

Was een geweldige ervaring met onze familie. Voor jong en oud. Super luxe en alles perfect afgewerkten compleet. Zeker voor herhaling vatbaar!
Christiaan - November 2018

Afgelopen weekend met de gehele familie verbleven in de luxe boerderij en buitenverblijven. Gehele huis is strak ingericht en voorzien van alle denkbare luxe faciliteiten. Sauna en jacuzzi waren heerlijk! Ook fijn dat je overdekt buiten kan zitten bij een vuurtje. Uitzicht vanuit huis was mooi! Je kijkt uit op een open weiland. We werden gastvrij welkom geheten door de eigenaren met passie voor het vak. We hebben erg genoten van het verblijf en omgeving.
Jeroen - November 2018

De LUXERIJ doet haar naam eer aan. Het is een luxe accommodatie die van alle gemakken is voorzien. Een goed uitgeruste keuken, heerlijke kamer met grote bank, fijne bedden, een sauna, jacuzzi en zwembad. Wij waren er in november en naast een afkoelende duik in het zwembad (na sauna) konden we er helaas geen gebruik van maken. Uitzicht en omgeving prachtig. Binnen en buiten ziet alles er super netjes en goed afgewerkt uit. Luxe materialen in goede staat en alles erg schoon. Een iets te kleine tafel voor een groter gezelschap is enige minpuntje. Met wat sleepwerk was dat op te lossen, maar zou verwachten dat gezien aantal beschikbare bedden een grotere tafel op zijn plek zou zijn. Verder alles 5-sterren. Aanrader. Roelof is prettige en goede host! Zou er zeker nog een keer op bezoek willen, maar dan in een warmer seizoen zodat het zwembad ook volledig benut kan worden.
Robin - Oktober 2018

Geweldige toplocatie, vooral voor een wat groter gezelschap. Zeer smaakvol gebouwd , perfectie tot in de details. Prachtig zwembad , jacuzzi en sauna. In combinatie met het prachtige weer zorgde dit voor een prachtig weekend. Roelof bedankt !!!!!
Diyari - Oktober 2018

Een super mooie, luxe villa alles was goed,heel veel luxe en faciliteiten de villa ligt ook aan een mooie en leuke plek. Super mooie kamers, de gast vrijheid is ook super! We hebben echt erg genoten van deze week in uw villa! Echt een aanrader!
Dorien - juli 2018

Fantastisch verblijf, met recht een Luxerij!
Yvonne - Juli 2018

"Traumhaus! Es ist eine wirkliche traumhafte Unterkunft! Es gibt alles was das Herz begehrt! Super schÃne und durchdachte Einrichtung! Hier kann man einen schönen Urlaub verbringen und super nette Vermieter Wir waren mit 14 Mädels vor Ort und wurden herzlich empfangen! Hat alles super geklappt und wir würden jederzeit wieder kommen!"
Marjolein - Augustus 2018

"Prachtige luxe nieuw gebouwde villa voorzien van alle gemakken. We hebben genoten met onze familie van alle faciliteiten. Heel mooi gelegen en een prachtige tuin. Absoluut een aanrader!"
Marian - oktober 2018

Heerlijk relaxte plek op mooie locatie
Booking
All prices are on request, depending on the period of booking, for more information you can also send an email to
info@luxerij.nl
. If you want to make a booking request, please fill out the form. We will then check availability and possibly make an offer tailored to your needs. Minimum overnight stays 3 nights.
Check in from 4 p.m. Check out before 10 a.m.
Younger groups are not accepted, and we reserve the right to refuse other requests that we do not feel comfortable with.
For more information or suggestions, please contact Roelof 0031 6 51 31 59 37.
Further to know:
The pool and jacuzzi are cleaned every day if necessary and the chlorine levels and PH values are checked. This work will take place in the morning. It may also be that work is being carried out in and around the garden. This is always done in consultation with the tenants.
The farm is completely available on the private side and rear. The landlord lives on the other side of the farm without any view of the rented part.
Pets are allowed only in consultation with the owner.
The manual for the various electronics, kitchen and wellness facilities are available.
Our accommodation wil not be rented to groups of young people and focuses primarily on families, so absolutely NO PARTY FARM.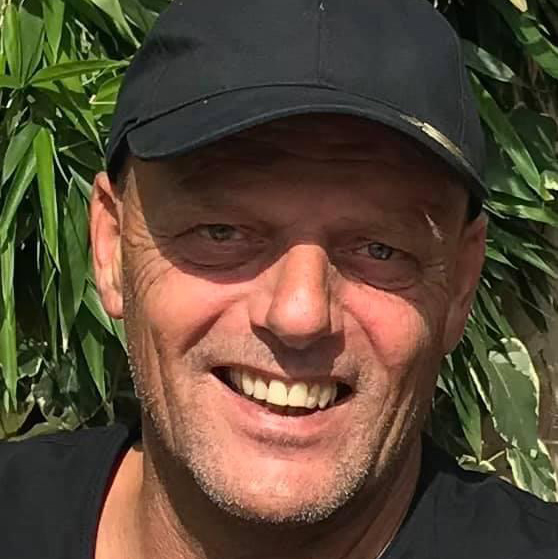 Landlord
Roelof
I think it's fantastic to be able to rent the Luxerij. A new passion in my live. I try to please everyone as much as possible. I enjoy it that our guests enjoy.